All-New 2012 Passat, 8th Volkswagen to Receive a 2011 Top Safety Pick Award
Having moved North American production to Chattanooga, Tennessee, the all-new Volkswagen Passat has now been repositioned to compete at the heart of the mid-sized sedan market. Now it has earned the coveted Insurance Institute for Highway Safety's (IIHS) Top Safety Pick rating for 2011, which is the highest possible for the non-profit safety research organization.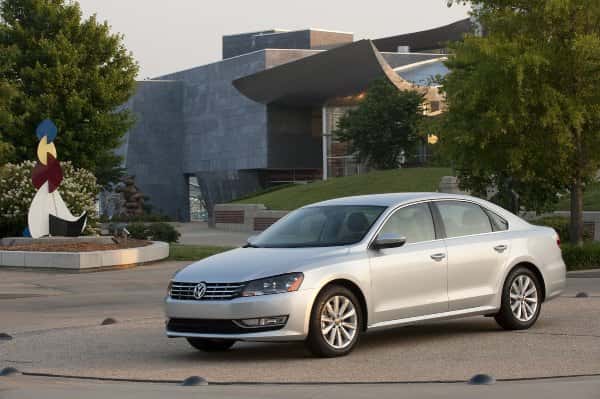 This annual rating recognizes vehicles that perform best in protecting passengers in the Institute's front, side, and rear crash test evaluations, along with the newly required roof-strength test evaluations. Top Safety Pick ratings are only awarded to vehicles that are fitted with electronic stability control and head protection airbags.
The Passat is the eighth Volkswagen vehicle to win the award for 2011. Among its winning siblings is the CC 2.0L TSI, Jetta, Jetta Sportwagen, Tiguan, Touareg, and four-door GTI models.
"Performance of the Passat is another example of Volkswagen's ongoing commitment to engineer vehicles that earn the highest safety ratings," says Institute president Adrian Lund. "Top Safety Pick winners achieve that status by earning the top ratings in the Institute's four demanding tests, and by having electronic stability control, the most important feature in helping drivers avoid many kinds of crashes in the first place."
"The new Passat is an important vehicle for Volkswagen," said Jonathan Browning, President and CEO, Volkswagen Group of America, Inc. "It has been engineered in Germany specifically to compete in the heart of the North American mid-sized sedan segment."
"To have IIHS recognize the Passat as the Top Safety Pick is a great statement for this new car–and to have eight Volkwagen models with this significant award is an equally great statement for the brand. It's a testament to our commitment to make safety such a high priority in vehicle development, using advanced techniques such as laser seam welding and the extensive use of high-strength steel to build exceptionally strong structures."
The Passat will hit our showrooms in the third week of September. Join our Facebook community or follow us on Twitter to be one of the first to know! Or contact us today and have one of our sales consultants contact you personally as soon as the vehicle arrives.