See Why the 2016 Audi Coupes Standout
Standout Exterior Elements
The 2016 Audi's stick out with their luxury thanks to their carefully designed exteriors:
Full LED Lights: See everything in front of you with the upmost clarity thanks to efficient and powerful LED headlights. Be seen in any weather with LED taillights, and you can even enjoy LED turning signal accents.
S Model Exterior: Upgrade your exterior look with Platinum Gray Singleframe grille, rear spoiler, exterior side mirror housing, aluminum optic front/rear twin blades, and door still blades.
Panoramic Sunroof: When the sun is shining, open your panoramic sunroof with the touch of a button. If you just want to open it a smidge to let in the breeze, you can do that too!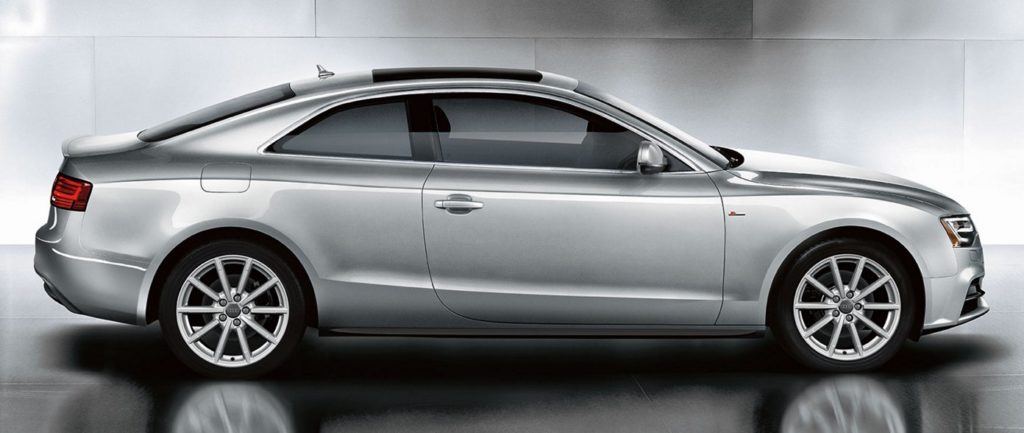 On Board Technologies
Enjoying your commute starts with a comfortable interior loaded with excellent technology:
MMI Touch: Easily control an array of your on-board systems with the intuitive MMI control area. Plus, you can coupled it with Audi connect.
Bang & Olufsen Sound System: Fourteen speakers and 505 watts of power means you'll get crystal clear sound reproduction no matter what type of radio station or podcast you're listing to.
Advanced Key System: This system gives you the power of keyless entry, stop and start as long as your keys are in your pocket or bag.
Driver Assistance Features
Santa Monica has plenty of busy streets and a notorious rush hours, so stay safe with the Audi Coupe's helpful driver assistance features:
Standard Audi Drive Select: With Drive Select, you can modify your driving settings to get your ideal level of handling and responsiveness. Plus, you can save your settings so you can engage them at your leisure.
Audi Side Assist: Utilizing a battery of optical warnings and radar sensors, your Audi Coupe lets you know when someone is in your blind spot so you know when it's safe to switch lanes on busy roads.
Audi Virtual Cockpit: With a 12.3-inch display, you can keep track of your Audi Coupe's performance and control your onboard technology systems. Customize your display with either the panoramic or classic setting.
Adaptive Cruise Control: Set your speed with traditional cruise control, and keep a preset distance between you and the vehicle in front of you without having to manually reset or disengage your cruise control.
Parking System: Using acoustic sensors in the rear of your 2016 Coupe as well as a rear camera, you can exit or back into any parking spot with a greater level of precision and confidence.
2016 Audi Coupes
Choose the coupe that fits for your road style and provides the right amount of onboard technology:
A5 Coupe Premium: With a powerful 2.0L TFSI that gets 32 mpg on the highway, this A5 Coupe base model comes with plenty of power. The Premium's luxurious interior features leather seats and your choice of 6- or 8-speed manual transmission.
A5 Coupe Premium Plus: Enjoy three-zone climate control, a panoramic sunroof, and three power outlets during your commute. With heated front seats and a 14-speaker entertainment system, you barely notice the LA traffic.
S5 Coupe Premium Plus: The S5 Coupe Premium Plus' 3.0L TFSI engine gives you an incredible 333 hp and 325 lb-ft of torque. Take advantage of the driver select features and Audi's advanced key system.
S5 Coupe Prestige: The Prestige trim comes with more standard onboard technology, including MMI navigation with voice command capability and a parking system that comes with a rear view camera.
TT Coupe: Full LED headlights, MMI radio plus, and the Audi virtual cockpit are the TT Coupe's key features – along with 2.0L TFSI engine capable of 220 hp. Plus, the TT Coupe provides safety features like Electronic Stability Control and Anti-Lock Brake System.
TTS Coupe: The TTS Coupe comes with the full LED suite, including headlights, taillights, and turn indicators. In the cabin, you can pair your Bluetooth compatible mobile device, SD card slots, and Sirius XM radio.
Test Drive Your New Audi at LA Car Guy Portal
Come down to LA Car Guy Portal at 14900 Hindry Ave to see which Audi Coupe fits your style best. Give us a call at (888) 965-4998 to schedule an appointment. If you have any questions, fill out our contact form, and we'll get back to you soon!