Get to Know the Best Cars for Seniors Today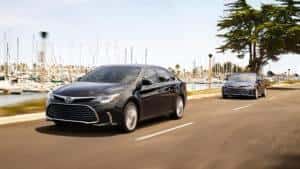 We know that different drivers in the Los Angeles area look for vehicles that fit their lifestyle needs, and that over the course of your life your vehicle needs will change. That's why we've listed out a few of the best cars for seniors that are sold at our LAcarGUY dealerships. Each of these excellent new vehicles provide visibility, comfort, space, and ease of handling.
2017 Subaru Outback
With its all-wheel drivetrain, the 2017 Subaru Outback is built to provide a versatile drive that quickly, easily, and safely adapts to any terrain or driving condition. And with a selection of active and passive safety features, the Outback is an IIHS Top Safety Pick — so you know you're in safe hands every time you get behind its wheel.
2017 Toyota Avalon
Prioritizing comfort, the 2017 Toyota Avalon provides its drivers with an experience unlike any other. Its dashboard controls are large and easy to navigate, and its plushy seats feature eight points of adjustment and incredible lumbar support.
2017 Lexus RX350
Featuring a number of driver's assistance features, like an enhanced park assist and a backup monitor, the new 2017 Lexus RX350 provides a comfortable and convenient experience. These features make it perfect for every driver, but with automatic sliding doors that make entry and exit especially easy, the RX350 is particularly ideal for senior drivers.
2017 Toyota Prius
With the casual and easy handling that drivers have come to love about the 2017 Toyota Prius, this hybrid vehicle delivers incredible fuel economy, which means more time spent on the road and less time spent at the pump.
2017 Toyota Camry Hybrid
The 2017 Toyota Camry is one of the most popular cars on the road, but it's also perfect for older drivers. Experience one of the safest rides without sacrificing interior features. The 2017 Toyota Camry Hybrid enhances the experience with incredible fuel efficiency.
Learn More About the Best Cars for Seniors at LAcarGUY
If you're a senior driver in the greater Los Angeles area, you can learn more about the safest and most comfortable cars available for you by calling us at (888) 965-4998 or by visiting us at the LAcarGUY dealership nearest you. Not sure how to afford the car you want? Find out how to finance a car with our team!