LAcarGUY Helps You Find the Best Cars for Tall Drivers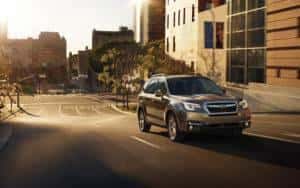 We know that tall drivers in the Santa Monica area may have a hard time finding the right car for them. Rather than you trying out a long list of cars to see if you can sit comfortably in them, we thought it would be helpful to gather a list of the best cars for our taller friends. Check out some of the best cars for tall drivers below, and then stop into one of our LAcarGUY locations to drive home in yours.
2017 Audi Q7
The redesigned 2017 Audi Q7 features an incredible spacious interior that gives it plenty of room for taller drivers to really stretch their legs. And because it's so much lighter than the previous model, the Q7's dynamic and athletic engine offers a sporty and compelling ride.
2017 Subaru Forester
Built tough for an adaptable and versatile ride, the 2017 Subaru Forester is as perfect for city driving as it is for your weekend getaways. Like the other cars on this list, its impressive headroom and legroom makes it ideal for drivers who find smaller vehicles cramped and uncomfortable.
2017 Toyota Highlander
Featuring a recent redesign, the stylish 2017 Toyota Highlander features a selection of available comforts that make it one of the most enjoyable rides available today. And with its impressive selection of safety features, you can feel assured knowing you're in safe hands every time you get behind the wheel.
2017 Audi A8
One of the few sedans on this list, the 2017 Audi A8 features a luxurious interior. Its combination of high-quality appointments and spacious cabin makes for one of the most fulfilling rides around, regardless of how tall you are.
2017 Lexus LS
The flagship Lexus sedan, the 2017 Lexus LS offers a fine-tuned luxury experience that marries a nuanced and complex drive with a comprehensive selection of interior features. The result is something comfortable, cool, and effortlessly elegant.
Learn More About the Ideal Cars for Tall Drivers at LAcarGUY
If you're a driver in the Hawthorne area near Los Angeles — or anywhere near LA — you can learn more about the best cars for taller drivers with a visit to one of our dealerships. Call us at 888-965-4998 to get started today.