2016 Toyota Hybrids Lead the Pack in Green Driving
Inputs and Outputs
Within the last few years, Toyota has become synonymous with fuel-efficiency and, with the introduction of the 2016 Mirai, it has completely changed the ways of cleaner, more air-friendly transportation. Each of the hybrids gets exceptional miles to the gallon —starting with the Highlander at 27 city/28 highway mpg* and surpassing expectations with the Prius at 54 city/50 highway mpg* — with competitive fuel tank sizes. All have exceptional emissions ratings, so drivers can start feeling a little less guilty in adventuring all that California has to offer. Toyota hybrids are boosted to the top of EPA-rated vehicles with Ultra Low Emissions Vehicle II (ULEV-II) and Advanced Technology Partial Zero Emissions Vehicle (AT-PZEV), including other advanced ratings.
What's Good in the Hood (and Cabin)
The Toyota hybrid lineup uses a mixture of normalized gas and battery-operated fueling, running on at least a 4-cylinder DOHC, with at least a 16-valve Dual VVT-i. Engine availability varies by model, but options include 2.5-L V4 DOHC, 178 hp at 6,000 rpm and 170 lb-ft at 4,700 rpm. The hybrids go from 0 to 60 mph on the same levels – if not better – than the sedans and SUVs in their corresponding class. No matter which hybrid you choose, you'll receive an exciting driving experience with minimal environmental impact.
Not only are you getting competitive engine power, but all of the hybrids have generally lowered emission ratings and smog production when compared to other brands. Toyota hybrid drivers reap the benefits higher-rated EPA engines and competitive prices to the gallon. For example, the Highlander costs about $2.05 to drive 25 miles, and the Prius about $1.11, according to Compare Hybrids.
The 2016 Mirai is a breed completely its own. Fueling involves seriously compressed hydrogen, and operates on hydrogen fuel-cell technology. Because the fuel is stored more densely in the same tank than a standard-fuel car would, there is an increase in the total driving range of the vehicle. The Mirai is truly a leader in a greener future.
Features
Your Toyota hybrid has an ahead-of-its-time engine, and the accompanying features are no different. Toyota reaches for comfort and style, while still trying to create the most efficient vehicle possible. You'll be doing yourself and your community a favor by driving a 2016 Toyota hybrid; it'll get you there looking good and going green.
Standard features include:
Bluetooth accessibility
HD radio
Keyless ignition
Hands-free calling
Built-in navigation
More!
Our Earth-Conscious Lineup
2016 Camry Hybrid
The 2016 Toyota Camry's awaits drivers, starting at $26,790. It's the perfect combination of sport and luxury for the busy bee.
2016 Avalon Hybrid
Available in three models, the eco-friendly 2016 Avalon Hybrid, may be tighter for the typical Avalon buyer, but it's a customer-surveyed smooth ride.
2016 Highlander Hybrid
The luxurious 2016 Toyota Highlander Hybrid combines large, heavy cars with eco-friendly features and better gas mileage – a feat worth mention. This green SUV starts at $51,679.
2016 RAV4 Hybrid
This roomy, five-passenger SUV rates most fuel-efficient among its competitors. The 2016 RAV4 Hybrid keeps the family safe, while on its eco-conscious drive.
2016 Prius Models
LA Car Guys offers leading fuel-efficient, eco-friendly vehicles, Prius — and its variants — to the Los Angeles and Santa Monica region for the best bang for your buck.
Prius – The 2016 Toyota Prius offers a cleaner option to hazardous, and persistent, gas emissions in the Hollywood and surrounding areas. With outstanding miles to the gallon (a whopping 54 city/ 50 highway mpg*) and generous cabin space, the Prius is a comfortable ride that just doesn't stop… very often.
Prius c – Toyota Santa Monica offers this five-seater hatchback — suggesting a unique driver lifestyle.
Prius v – The wagon body style offers a variant of the original Prius, with the same reliability and environmental consciousness.
2016 Mirai
Toyota Santa Monica offers this all-new California-exclusive sedan, the Mirai, which delivers a record 300-mile range (when compared to plug-in cars). This unique car has only two fuel-cell competitor, putting Toyota a head of zero-emissions game.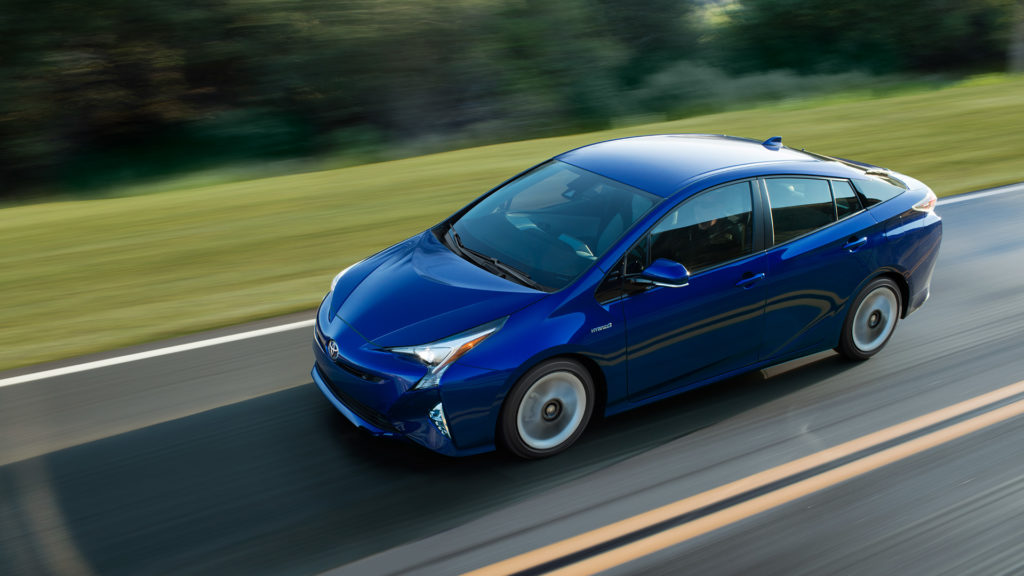 Start Your Eco-friendly Journey with LA Car Guy
California's persistent push for cleaner transportation starts with impressive fuel economy and a lower gas emitter; contact us for more information on the 2016 Toyota hybrid lineup. Hop off the San Diego freeway, and see your options in sustainable driving.